Great Leadership Changes Everything!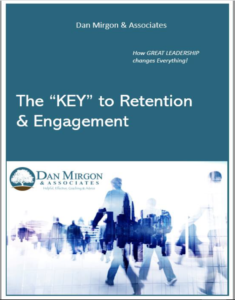 Unfortunately, most managers today do not have the core talent required to have Engaged employees who Stay with the company. In fact, only 12% of managers have what it takes.
These are the findings of a recent study by the Gallup Organization. Having surveyed over 2.5 million manager lead teams from 195 countries, the Study reports that "Authentic Management Talent" is so rare that only one in ten have the natural, God-given ability to maximize performance in the people they are supposed to lead.
As a result, only 30% of U.S. employees are engaged at work and the numbers aren't getting any better despite all the seminars and books on the topic of "Employee Engagement."
Training alone does not solve the problem because companies are promoting people into management positions for the wrong reason.
In general, promoting the "best salesman" or "highest performer" does not translate into effective leadership of teams.
These companies operate under an outdated belief that "because the employee was good at doing their prior job, they will be good at leading a team." Unfortunately, the facts simply don't show that to be true.
This traditional method fails to consider the need for 5 Core Talents that managers must have to inspire and lead great performance.
The financial impact of lost time, productivity and profit is very difficult to measure because this "dysfunctional" hiring method prevents companies from realizing new levels of profitability and competitive advantage that great leadership at all levels brings.
What is needed is an intentional strategy of identifying the Authentic Leaders in the organization, the resources to equip them for their role of developing their teams, and encouragement and support from senior leadership.